Debby Radakovich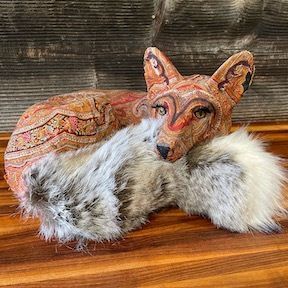 I am a hybrid artist working with fabric and mixed media reclaimed objects.  My work is 3 D and generally tabletop size in scale.  I find animal forms, cover them with vintage fabric and give them personality with various objects such as necklaces, crowns, scarves etc...   My pieces are one of a kind and whimsical.
As a retired interior designer my knowledge of design dictates my art.  It is a challenge for me to work with the tenants of design, especially with color and pattern to create my special animals.  When I have participated in POS in the past I have talked with guests about how the principals and elements of design are used specifically in art.
My art is unique and whimsical.  Most comments from visitors are generally with smiles and laughter.  I like following my own path and enjoy the process.  I am also an avid equestrian and all proceeds from my art are donated to horse rescue.
---
2530 SW Buckman Rd West Linn OR 97068
Mixed Media 3D | Fiber & Fabric | Assemblage
Community: Lake Oswego
Studio Number: 115
Email: debbymradakovich@gmail.com
Website: www.gratefulcreations.com
Facebook: GratefulCreationsArt/
Instagram: GratefulCreationsArt
Subscribe to Our Newsletter