Sylvia Dawne Miller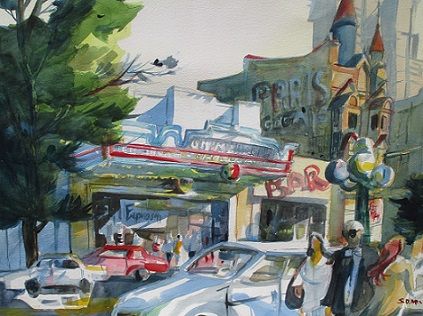 I am a seasoned artist who has been working in the watercolor medium for over 35 years. My earliest teachers were from the California Watercolor School including George Post and Dong Kingman. I work and teach regularly in my studio and on location. I have lived in Lake Oswego for the past 5 years. I was a secondary art teacher for over 30 years. My second career was organizing and teaching workshops in over a dozen states and a dozen countries. I recently was given the prestigious Watercolor West International Signature award.
My works hangs in many museums including the cities of Beijing, China and Soul, Korea; the Pioneer Museum; Woodward, OK; the California Museum of Art, CA; The Charles Schulz Museum, CA.
My work evolves as I find new ways to use different watercolor surfaces, materials and techniques with my students. My watercolors are a combination of strong design and spontaneous watercolor.
Greek Boat

Highland Village

Flamingo Inn
---
Watercolor
Community: Lake Oswego
(541) 218-4865 | sylviamiller541@gmail.com
Website: www.sylviamillerwatercolor.com