Larry Olson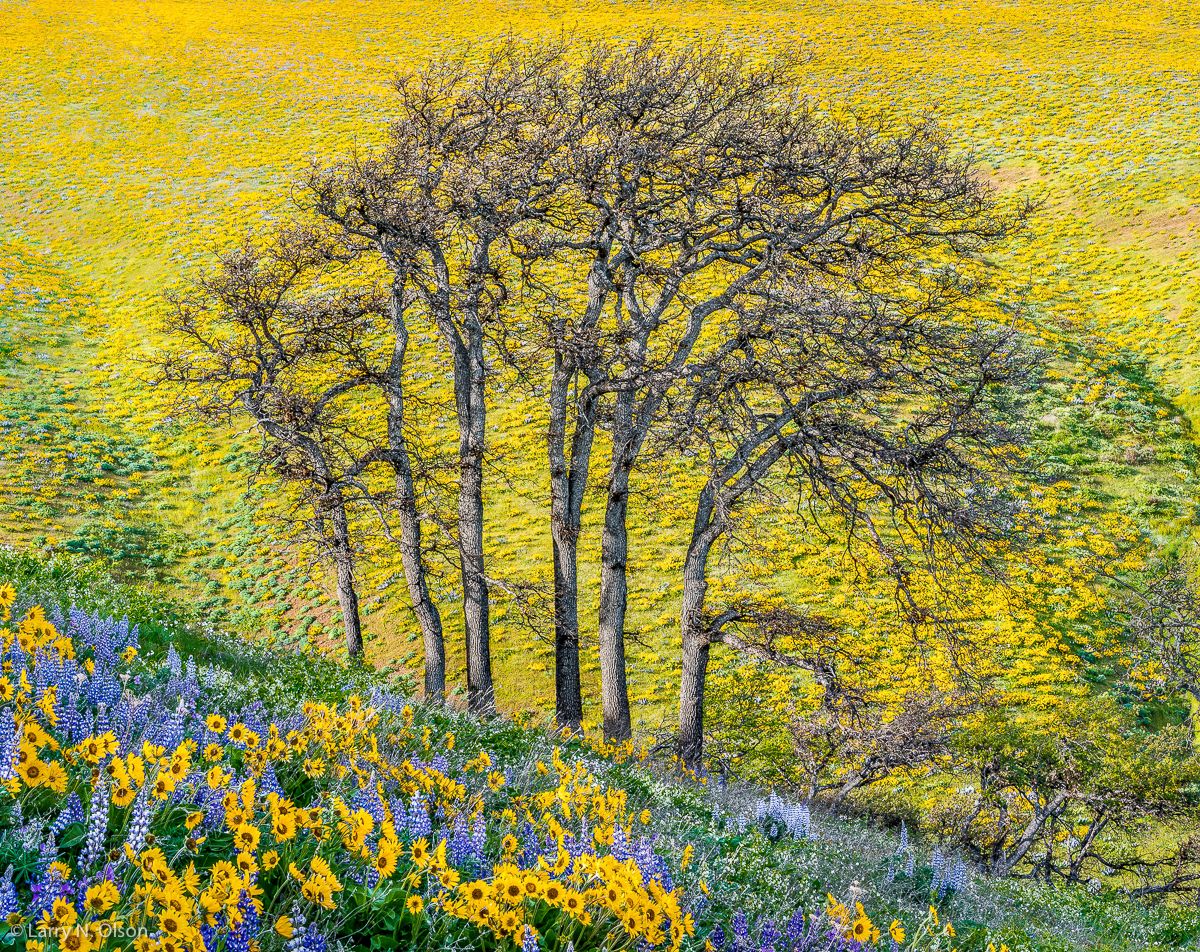 Ansel Adams likened the negative to a musical score and the print to a performance. In other words, photographs are made, not taken. Because the final performance or interpretation of the image is highly personal, I process my own photographs using Adobe Lightroom. The computer is now my darkroom where I use the traditional techniques of dodging, burning, color balance, contrast and density to create the image. In my view, this new technology leads to far superior prints and unrivaled archival qualities. My procedures are elaborate and meticulous. These processes often take an entire day for a single image.
When Elliot Porter called his images "intimate landscapes," I thought he was referring to their emphasis on foreground (sometimes to the exclusion of any background at all). Over time, I have come to see additional meanings for the phrase, including deep knowledge and love. An artist who knows and loves his or her subject can perhaps come closer to doing it justice.
Originally a native of Minnesota, I moved to Oregon to attend Lewis & Clark College. While earning a degree in biology, I took a black-and-white photography workshop at the Malheur Environmental Field Station in southeastern Oregon. I fell in love with photographing nature, which for me combined two strong interests. After graduating in 1973, I was drawn to the independent lifestyle of a professional artist. Searching for pristine landscapes, I spent time in the wilderness skiing, backpacking and kayaking, and making photographs all the while. For forty years, I have traveled throughout the West and exhibited my prints in numerous museums and galleries.
In 1988, motivated by Oregon's landmark river legislation, I began making photographs for a book to celebrate our rivers.  Oregon Rivers, which joins my photographs of the rivers in Oregon's wild and scenic river system with essays by John Daniel, was published in 1997. Making these photographs provided me the opportunity for a long-term immersion in intimate landscapes. I made repeated visits to all of the fifty-six designated wild and scenic rivers in Oregon, hiking along (and often in) the rivers, roaming up and down the canyons and drainages surrounding them, and seeking to capture on film the contours and facets of landscape that make up a river system. I also kayaked and canoed many of the rivers in order to visit remote sections.
My current body of work continues to be inspired by the natural world. It is my hope that these photographs will inspire others to cherish and protect our existing wild areas.
---
Photography
Community: SE Portland
(503) 234-5288 | larrynolson@gmail.com
Website: larrynolson.com