Joanne Radmilovich Kollman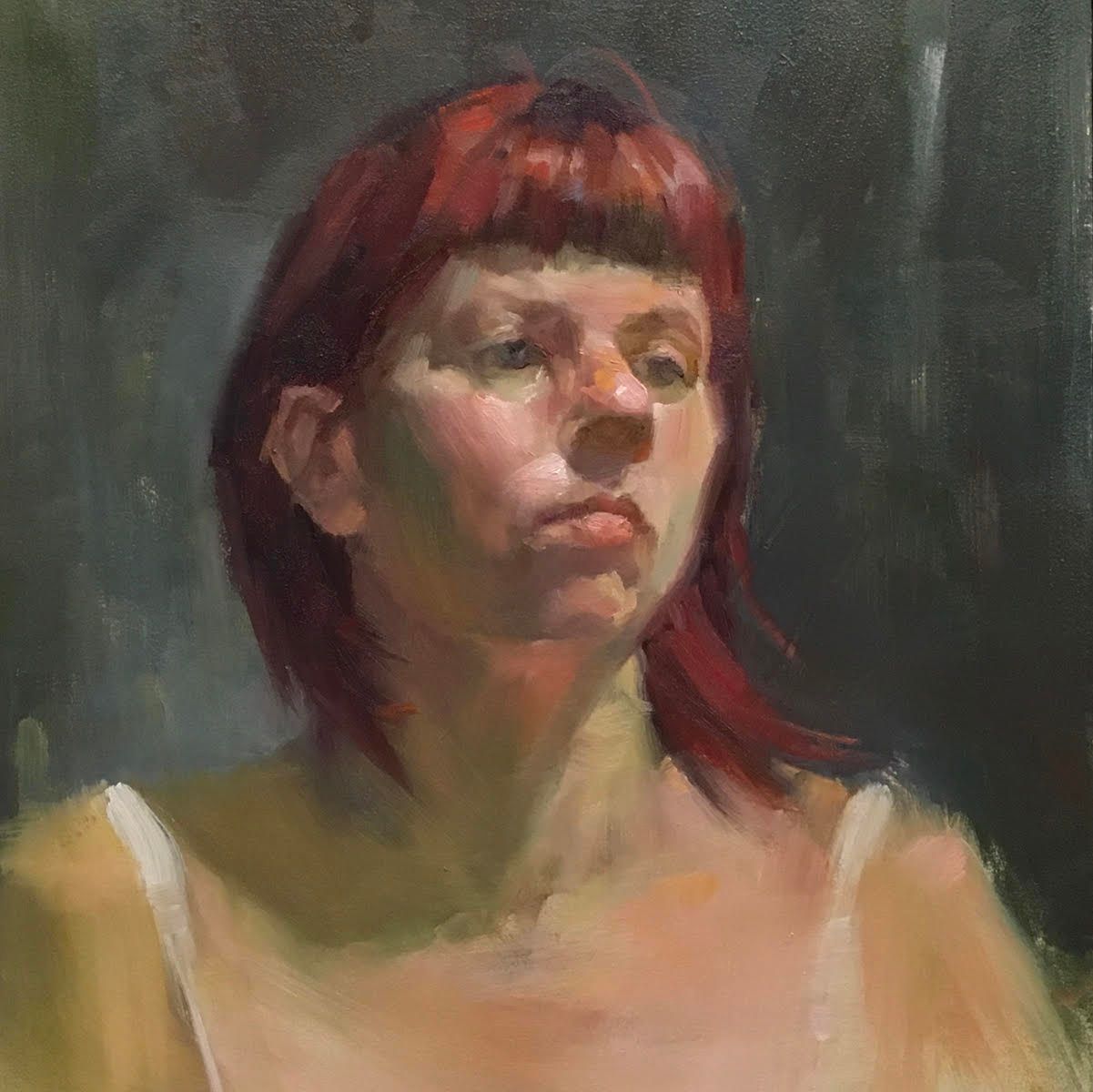 I paint a lot: portraits, the figure, landscape and floral, mostly alla prima from life, in oil. I also draw and make studies in watercolor and gouache. I am a native Oregonian and I paint what I see in my local surroundings. My style might be labeled as expressive realism and I think that painting captures the passage of time in a single image.
When painting portraits, representing diversity in character and personality are important to me. I am inspired by Max Ginsburg who I have had the privilege to work closely with over the past five years. Historical artists Alice Neel, Egon Schiele, Anders Zorn and Rembrandt portrayed truth as beauty, to name a few artists of the past who have influenced my work. Commissioned portraits may require idealization, but my intention is to get the essence of the individual. I have made it a point to seek out subjects that represent the growing diversity in my own neighborhood. I was able to revisit and paint two young women still associated with Kateri park, a living complex for refugee families in SE Portland. I had painted each of them at about age 6 and it was a pleasure to meet them as middle schoolers with adult ideals and ambitions for change. When I paint people, I learn a lot about their lives, hopes and dreams. I think of this information as the air around them in the painting, sometimes atmospheric, and sometimes portrayed through lyrical or blocky brushwork and color choices. I paint people as I see them, often knowing very little about them.  I approached two of my models at different trips to the grocery. Character stood out through mannerism and attire inherent to individual and unique personality. Making a painting is all about the relationships of all of the parts in the painting, relative to relationship of artist to surroundings and subjects. I resonate with the idea that painting reflects life and life reflects painting. 
I like to be involved in different aspects of my community. I am a teaching artist and I also jury into regional and national events and exhibits. At Elisabeth Jones Art Center, I have painted in Plein air events to save the trees as well as collaboratively working with other artists to exhibit paintings that reflect some of the social and ecological issues of this time in history. My paintings record and communicate my moment in time in this place. Portland has shown accelerated growth in recent years, often questionable for the greater good. These changes are present globally and as an artist living in this time the documentation, awareness and communication is highly relevant. 
This writing was pre COVID. I now teach online, accept portrait commissions and paintings and my work is distributed nationally. Portland Open Studios is my opportunity to reach you. I have hundreds of paintings; portrait and figure, floral, landscape and even some whimsical cat and dog etchings.  Be well, stay safe and I hope to hear from you: Joradarts@gmail.com  www.radmilovichkollman.com join my email and newsletter lists, buy a painting or sign up for a class.
---
Oil
Community: SE Portland
(503) 752-3708 | joradarts@gmail.com
Website: radmilovichkollman.com
Facebook: joanne.r.kollman
Instagram: joannekollman 
Etsy: www.etsy.com/shop/JoanneKollmanArt
VIDEO
Talk Time
Saturday, October 17th
3:00 - 3:30 pm
Instagram: @joannekollman