October 2019 News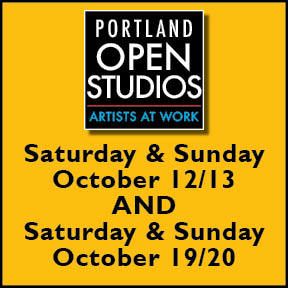 THERE IS ONLY ONE PORTLAND OPEN STUDIOS
It's October and there are a lot of open studios out there.  But there is only one Portland Open Studios.
And while I can't speak for the others, I can tell you that the 117 Portland Open Studio artists have gone through several gauntlets to get in front of you this October. They started by competing to get into the event – out of nearly 200 entries, this group stood head and shoulders above the rest, selected by an independent jury of art professionals we appoint each year. Read about this year's jurors, Lisa Congdon, Stephanie Chefas, Una Kim and Adrienne Cruz
They paid a $250 participation fee, they've attended two training meetings all together, and met with their communities several times as well. They've been actively thinking about how to make this an art experience for you – all will demo, and many will offer projects for you to try.
This is not just about for sales for them. They believe that art has the power to change lives. Some of them volunteered to teach kids in afterschool programs around Portland this past year with Latino Network, and are taking time to offer a Free "Make Art for All" Day at our new partner organization, Portland Art and Learning Studios on November 17th.  Please feel free to DONATE to this worthy project. Some of them have volunteered to build up their communities by working as year-round community leaders. And some of them, like myself and several others, serve as a volunteer on the board to run this organization.
I can honestly say that this is a community I'm proud to know and represent.  Remember when you see this little sign in front of their studio, all the hard work, planning, and investment of time and resources that went into it. It's no small thing.
              Enjoy the tour!
              Warmly,
              Leah Kohlenberg
              President, Portland Open Studios