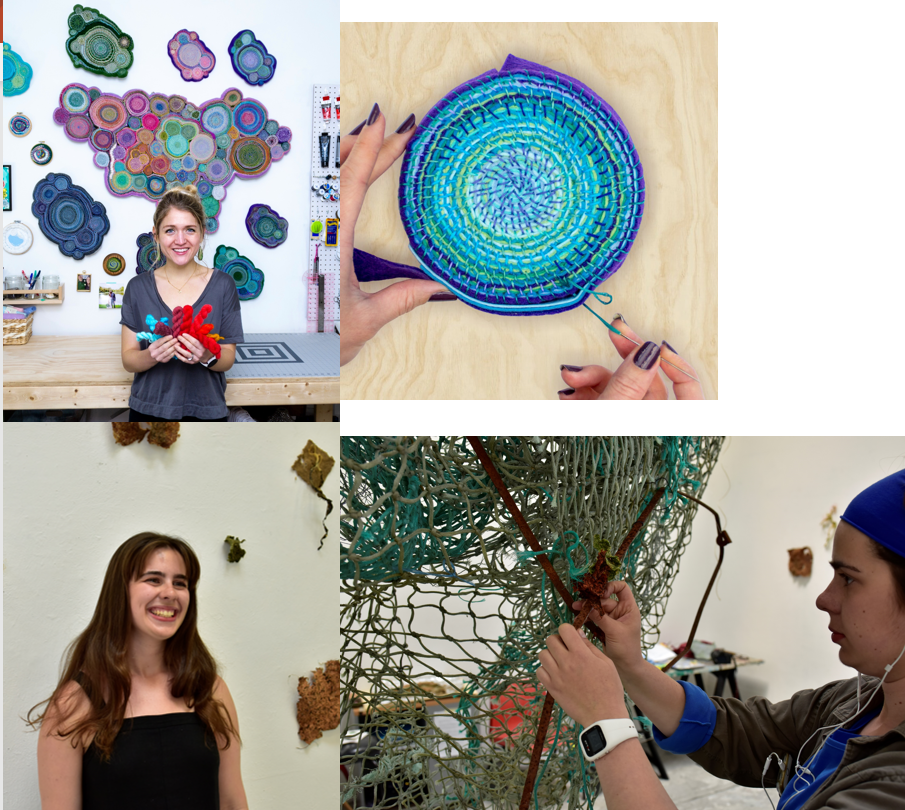 Each year, Portland Open Studios awards a scholarship to support young artists.   The scholarship is in honor and memory of Kimberly Gales, a painter and one of the original PDXOS board members, who died unexpectedly of a stroke two decades ago.  Currently, Kim's amazing daughters, Aimee and Katie, fundraise for the award, so we now can offer a more substantial stipend to promising emerging talent.
Meet our 2021 Emerging Artist award winners, Sophia Hatzikos and Amy Reader.  Both are new to the tour this year.
SOPHIA HATZIKOS, age 23, describes her work as multi-faceted, with a focus on raw materials and resource management.   Not surprising from someone who switched majors from Chemistry to art midstream at Wheaton College, in Massachusetts.

How does that translate to her art?  In a recent piece, she made paper at home from posters gleaned off telephone poles.  "You can see the community in the new paper," she says.  "There are hints of black lives matter, and stories on location.  The paper becomes the community."
"I haven't found my niche yet, I'm still exploring," says Hatzikos.  "My studio is a cacophony of mess – I have my bio ingredient wall of egg shells and avocado pits, a papermaking project, and ceramics made from natural materials." 
While Hatzikos says her work is primarily about the physical pieces she makes, COVID caused her to add a new direction to her display, with the camera.  She's photographed her organic pieces and displayed them artfully.  "I think the camera is more important than I thought it would be," she muses.
AMY READER, 28, is a fiber artist who comes "from a line of grandmothers and great grandmothers who worked with fiber.   I learned to use a sewing machine when I was six, AND I drew and painted."
Reader said she always saw the two disciplines as separate, and started out in art school, at the University of Richmond, in the painting program.  But after a couple of years, painting no longer interested her. "That's when I started translating my paintings over to fiber, and combined them," she said.  "Now, I dye a lot of my own yarn, so I can get more color control."
Reader and her husband moved to Portland just a year ago, and she was quick to meet a PDXOS alum, landscape painter Catherine Freshley, who worked in the studio space next to hers.  
"She brought me in," said Reader.  "I'm so grateful, and so excited, to meet people and get to know the community this year through Portland Open Studios.
We look forward to seeing you on the tour this year, the second and third weekends of October (9-10, and 16-17).  Find out our complete 2021 lineup at our website, www.portlandopenstudios.com.  We'll be offering more detailed information about each artist later in the summer!