July 2019 News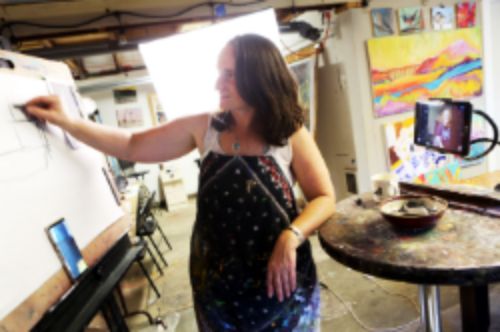 It may seem like it's quiet over here in Portland Open Studios land in the summer, but our artists are busy making work for our big two-weekend event coming up in October, and the board is busy creating this year's tour guide to the region's largest open art studio tour!
This year, we are for the first time offering an entirely free guide to tour 118 artist studios across the greater Portland area on the second and third weekends of October (this year, on Oct. 12-13, and 19-20).  The electronic component is launching this month: our new website, which includes easy-to-navigate directions to each of these studios via your cell phone or other handheld device. Here you will find detailed information about each artist participating on the tour; you can search by medium, artist's name, or by community; you'll get driving directions to each location; and we'll include maps of the entire area and of each community.  We are excited to have Shelly Edwards, our current treasurer, step ably into the roll of webmaster, and we are thrilled and thankful that the Regional Arts and Culture Council (RACC) agreed to fund to improve our paperless electronic guide, to the tune of $1500 (we love you, RACC).
This new website will replace our popular phone app, which formerly cost participants $4.99 and was getting more and more costly to update.  You can go to www.portlandopenstudios.com now to search artists, and read up on our news.  The maps will be loaded into the system in September.
Still, we know not everyone has a smart phone, and not everyone wants to guide themselves electronically. Even more exciting, and also free (and currently in production) is our new printed guide – an actual map of the city, showing the locations of each artist studio on the tour.  We are lucky to have mapmaker (and open studios participant) Jill Berry designing this beautiful collector's item for us.  The map will include breakout sections for each community (there are eight this year), and a thumbnail photo, address and other relevant studio information for each artist on the back.  It folds up just like a road map and will be distributed at various locations across the city.  All participating artists will also have copies, and expect to find the map in local libraries, post offices, and art supporting galleries, art stores, coffee shops, and other businesses all around town.  These maps should hit the streets in mid-September, a month before Open Studios starts.
So there you have it – your complete tour to experience how art is made, at your fingertips.  See you in the fall!