Portland Open Studios: What Art Has to Give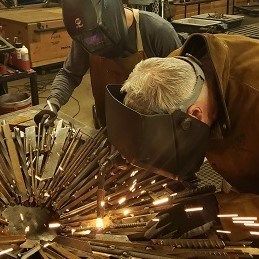 On Tuesday morning, at 5:30 am, I watched as KOIN 6 news correspondent Kohr Harlan's face lit up – literally and figuratively!
He was holding a welding tool, which was spitting out hot metal, flame and sparks, attempting to seal a piece of metal onto a wreath shape of metal pieces. Beside him was Travis Pond, one of our participating artists, walking him through the process. Harlan's face mask was awash in blue and yellow light.
"Yup," said Harlan, as he lifted his mask and grinned widely. "It doesn't get better than this. I got to WELD something."
Which reminds me why it is we do what we do at Portland Open Studios. We are not your typical art experience. Where else can a visitor immerse themselves in up to 99 different ways that artists make art, in their studios, with their tools, with work in all its various states around them? It is exhilarating. All of our artists will be demonstrating their process. Many will have something for you to try out, too.
I know people who like to romanticize the job of an artist. Let me tell you, if you are making art for a living, there are definite ups and downs, just like any other job. But the biggest up is the thrill of making something with your hands and using your right – or visual side – of the brain. Those of us who participate in Portland Open Studios know that this meditative, out-of-time feeling is what gets us through even the most difficult of days.
We also know that this feeling is not unique or special to us – anyone can get it by learning to hand-make something. Whether it's fine art, working on a car engine, knitting, cake decorating or carpentry, taking things apart and putting them back together again is an experience that builds your brain and your soul. The artists who participate in open studios aren't just hawking their wares. We want you to share that experience, that feeling, with you. Our connection to art is very human and very universal.
This year, Portland Open Studios celebrates 20 years, and our hope, our dream, is that you walk into open studios with curiosity, and walk out having your mind blown – that process was so cool, that painting so beautiful, that studio so amazing. We want you to walk away feeling like you must have more art in your life, and that art has something to give YOU, personally.
We want you to walk away feeling like it doesn't get any better than this.
Much love,
Leah and the Portland Open Studios Board (Maude, Shelly, Jolinda, David, Pat, Janie, Sam, Kit and Duck)