PDXOS Artists are RACC Grant Winners!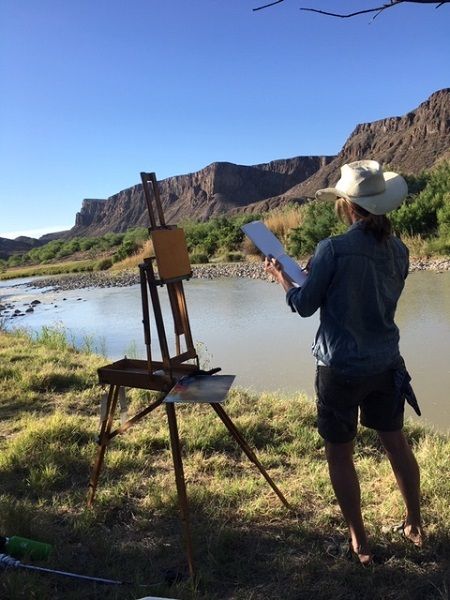 Congratulations go out to two Portland Open Studio Artists (and Board members) Janie Lowe and Kirista Trask for receiving grants this year from RACC.   RACC (Regional Arts and Culture Council) yearly awards grants to local artists who demonstrate high artistic ability, innovation, and creativity.
BORDERLAND STORIES
Janie Lowe's project is titled 'Borderland Stories'.  The project is a series of paintings she is creating to document her recent travels along the entire Southern Texas border, from Brownsville to El Paso, gathering information about how the borderlands have changed with objects left behind by migrants, and objects put on the land to aid or deter them.Janie grew up in Texas, and still remembers trips down to the border towns of El Paso and Juarez.  In the last few years, she has been increasingly more interested in the immigration issue. "…the worse it gets, the more I want to do something." 
Janie's project is about the landscape and how it has physically changed; how the wall will Impact wildlife, people, animals, and the environment; things left on the landscape by migrants; things added to aid or deter migrants; the effect of the wall on the borderland inhabitants and the environment, and things being done to help the situation.  She also wanted to document how the Texas landscape along the borderlands was unique to any other place in the US. Unlike other states along the border, the land is not public land - ranchers and farmers own the land. The government is using eminent domain to seize land from Texas land owners, some of whose ranches have been in families for centuries. 
She was on the border for 12 days, beginning in Brownsville, and traveling up all the way to El Paso.  
The Rio Grande is curvy, but there is already a wall in many places.  The wall is on the US side of the river with land between the river and the wall, and a road on both sides of the wall for the border patrol to travel. She points out that the wall puts the river all on Mexico's side.  South Texan citizens depend on the Rio Grande for irrigation for farms, ranches, and other water needs. In addition, wildlife depend on the river. She notes that …"if we were to really close this up, like one unbreakable barrier, we would be ceding all that land between the wall and the river to Mexico."  
She found many stories of how the wall is effecting Americans.  For example, the planned wall would go right through a mission built in 1863 on the US side of the wall, cutting American people off from their church at the mission.  There was even talk of perhaps tearing down the mission.
While on the trip, Janie and her companions volunteered at several places to help out.  One was a non-profit, the South Texas Human Rights Center, started by an individual in the area to try to combat a situation where they were finding many human remains due to dehydration.  People get out of their vehicles and walk 20-30 miles around a checkpoint at South Falfurrias, Texas and there's no water in the area. He got permission from the ranch owners and border patrol to place big blue barrels with a big pole on top and a blue cross and the word Aqua on it.  They continually restock the barrels with gallon jugs of water.  
When they visited a shelter in McAllen Texas to drop donated items off, they walked into a sea of people – border crossers seeking asylum.  A volunteer spotted them and asked if they would help out. ICE was dropping off 100 people in 10 minutes and they didn't have enough help to hand out what they had to give them. They come to the shelters when it's overflowing at ICE and they have to take them somewhere.  These shelters, mostly Catholic charities and other faith-based organizations, are taking these people in and volunteering their time. They have to stay in the shelter for a few days, get cleaned up, get a good meal, clothes and then they are on their way, as long as they have a sponsor.  So they started stuffing bags with donated items. Then the bus came and all these families lined up – mostly from Guatemala and Honduras. Even though they were tired, downtrodden, having gone through so much, they were very orderly and when they were handed a bag she recalls the kids looking up at her with their big brown eyes, with a smile and a 'gracias' for them.  This was the biggest surprise they had.  That they got to meet these people and see what they're going through.
Janie's paintings will be based on her observations of the differences in the landscape, such as tractor tires, water drops, personal items and clothing on barbed wire, gloves stuck up on high barbed wire, back packs, articles of clothing, and other items people would be traveling with.  You get a sense that "they're running, and they don't have time to get untangled from the barbed wire so they just take the shirt off and keep going. Or it could be a sign for people behind them, like 'come this way - this is the way'".  
Some of her paintings are symbolic. The border crossers identify with road runners, fleeing, looking around, trying to see where to run to.  Some of the paintings are indicative of things she saw, such as chains wrapped around old tractor tires which are dragged along the landscape so they can see any fresh footprints the next day.  
There were some really touching moments.  Her group had a fund raiser the night before they left for Texas.  People brought supplies, toiletries, and other things the shelters were asking for.  Since they were driving, they loaded up the car, and raised an additional $3000 to give to two shelters and the nonprofit that does the water drop.  
Janie will be collaborating with artists from the Latino group IdeAL PDX.  Our collective paintings will bring multiple perspectives of our borderland stories.  The exhibition will be in September at Antoinette Hatfield Hall (Newmark Theater lobby).  Opening night, September 5, there will be live music, drinks and appetizers, so Save the Date!
You can see more of Janie Lowe's art and process here.
---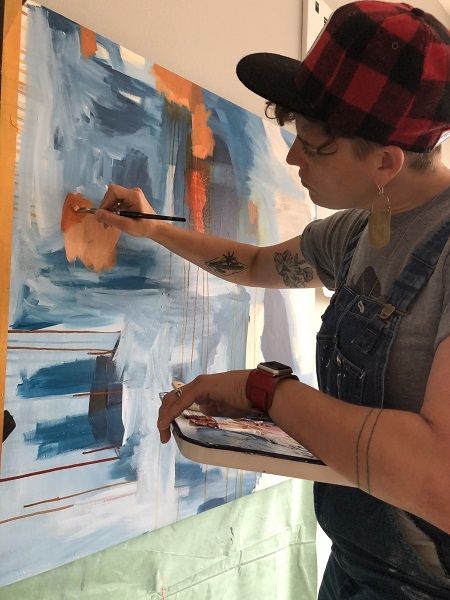 CHASING JESSIE APPLEGATE
Kirista Trask's project is called 'Chasing Jessie Applegate'.   It focuses on tracking 8 generations of women in her family and their stories of trauma and surviving trauma.  The intended impact of the project is to start a conversation about intergenerational trauma, femininity and place. It is the artist's intention that the body of work visually speak to how trauma does not dissipate in its effect but rather can trickle down from generation to generation. 
Chasing Jessie Applegate will also allow the artist to share the stories of the women in her family visually, as often words are out of reach, generating a visual representation of pain that is often unspoken or invisible.  She hopes to give pain a place to rest and to allow stories of hope and resilience to stand alone in its place.
"This project has been bubbling in my brain for over two years", states Kirista.   "I have spent my entire life listening to my family telling stories of our old Oregon Roots.  My grandmother spent years researching and tracking down these stories so that we could document them.  My mother would accompany her on many of these trips as they did grave rubbings and visited the important sites of our family's trip to Oregon from Illinois.  The project takes my grandmother's research and connects to the personal stories of the women in my family.  So much of our genealogical story revolves around the men in our family.  Yet it seems so often it was the women that held the family together."
Chasing Jesse Applegate will be presented as a visual art exhibition of Kirista's work.  Along with the exhibit, a full catalogue will be available and the artist will be presenting an artist talk. 
The exhibit will include 12 paintings, one large installation, and one community art project. Each place setting is created to honor and represent one of the artist's female deceased ancestors. Through the abstract exploration of place the artist seeks to reconcile her genealogy as a seventh generation Oregonian in relationship to her family's long struggle with generational trauma.  By presenting this body of work the artist hopes to spark discussions around generational trauma, female experience and place.
There are three visual components to each woman's story included in this project. The first piece is the abstract painting on the wall meant to celebrate the resilience of their stories. The paintings have components of the stories but seek to further explore the emotional experience that these women have been through.   The second piece is the plate on the table featured in the installation.  Each plate will feature a different key symbol of the women's stories.  Lastly the napkin has a small poem written to document the hardest parts of these women's experiences.  It is the artist's intention that through the gathering of each of these visual pieces of information the observer can have a multi-level understanding of the stories being told.
You can see more of Kirista Trask's art and process here.