PDXOS Artists Create While Musicians Play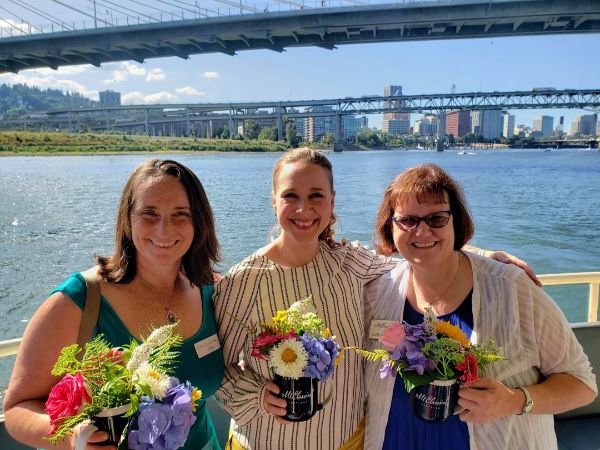 It is not an exaggeration to say that the moment I met the All-Classical Portland (89.9 FM) staff, I knew our two organizations could make beautiful music together. 
This was literally true, as I learned when I met the all-classical crew on a volunteer appreciation cruise along the Willamette this summer.  Within half an hour, the whole boat had broken into a roaring rendition of "Summertime." Even myself and Shelly Edwards, the PDXOS board member and All-Classical volunteer who brought me on the trip, sang along!
That's why I am so excited to launch our first official collaboration with All-Classical Portland this week – two Portland Open Studio artists will paint in front of a studio audience while two professional musicians play on the "Thursdays @ Three" concert All-Classical broadcasts live each week from their studio.  The idea is for the artists to respond to the music organically: both Diane Russell (studio 55) and Sienna Morris (studio 14) will be drawing and painting the musicians while they play.  The renowned musicians will be the violinist Tomás Cotik and pianist Julia Lee.
Wondering how you can see this yourself (since this is, after all, radio)?   All-Classical will be filming the show and live-streaming it on their Facebook page, register now to be reminded of the event!
We'll also be posting on our Instagram and Facebook feeds, check out those links here:
You'll be hearing interviews from the two artists interspersed with the music, so please do tune in to check out the show here:
Sept. 26th 3 - 4 PM on 89.9 FM 
While our organizations promote different arts – they a love of classical music, and we a love of painting, drawing, sculpture, pottery and other fine arts – we share a belief that art heals, and that we want as many people as possible to experience the power of art.  
I can't think of a better way to officially launch the Portland Open Studios 21st season.
---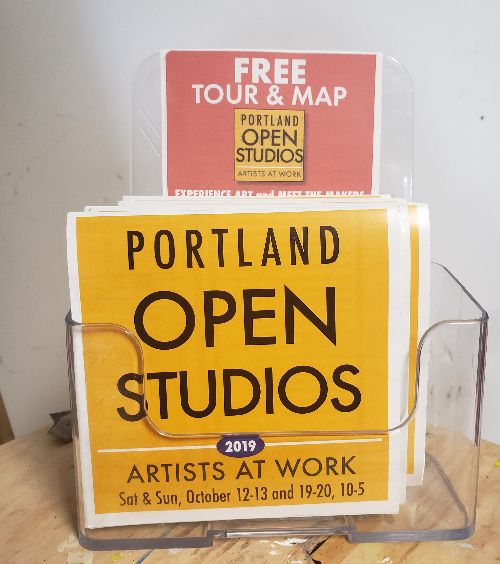 You may notice these gorgeous yellow and black maps showing up around town.  This is the first time Open Studios has released a fully free tour guide and the first time we have printed a proper tourist map (many thanks to participating artist Jill K. Berry (studio #2) for the design)!  Maps will be available at various locations around the city (locations are on our web page here). You can also pick one up at an artist studio on the days of the tour!
OTHER PLACES TO GET MAPS:  On Thursday, Sept. 26, we'll be passing out maps at the Guardino Gallery Day of the Dead Show opening (5 - 9 pm), and also on Friday, Sept. 27, at the Pearl Neighborhood Preview Show opening party happening at the Oregon Society of Artists (6 - 8 pm).  Stop by if you'd like to get a map and see some amazing art!